Colbert Nerding Out on Tolkien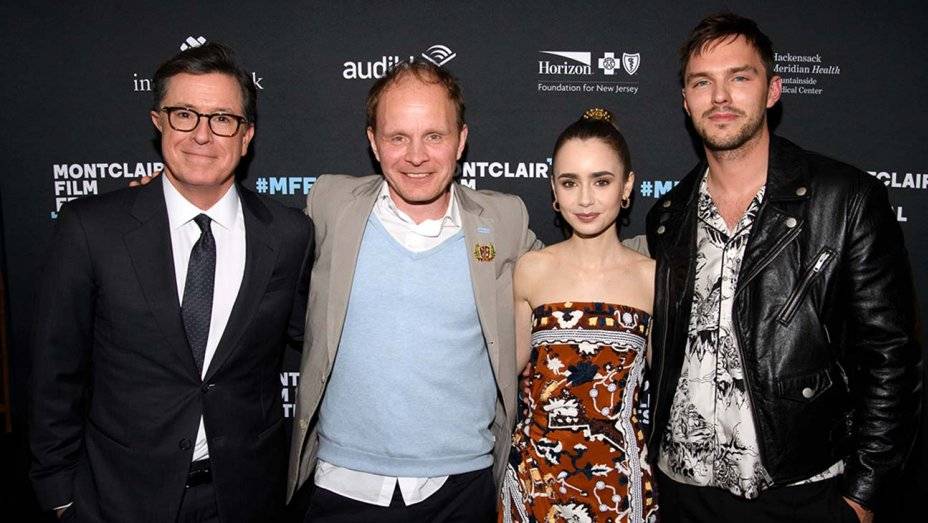 Photo: Dave Kotinsky/Getty Images
From left: Stephen Colbert, Dome Karukoski, Lily Collins and Nicholas Hoult
Stephen Colbert's passion for everything Tolkien was on full display at a recent panel he hosted with film actors Nicholas Hoult and Lily Collins, and with director Dome Karukoski at the Montclair Film Festival in New Jersey. He explained that it was his intense fandom that prompted director Peter Jackson to invite him to be in The Hobbit:
"I was officiating a wedding, and a friend of the bride and groom came up to me and said, 'This is from Peter Jackson,' and he gave me a tube and I unrolled a scroll from this tube," Colbert explained. "It was on a piece of stationary that had Tolkien's illustration for Smaug on the top — like his watercolor for Smaug on the top. And it said, 'Come on down and bring your family and be in the movie. We'll have fun.' And so we flew down a month later, he put us in clothes, and we were on Esgaroth, the men of the lake who live on the island and serve the Master."

The fearsome Smaug discusses Hollywood's liberal bias and shares a clip from "The Hobbit: The Battle of the Five Armies."

Now, with his participation in Tolkien's panel, Colbert had the opportunity to be part of the movie who depicts the mind of the writer of The Hobbit. In some ways, it seemed like a full circle moment.
During the Q&A, director Karukoski revealed to Colbert what goes into a film like Tolkien, which chronicles the formative years of J.R.R. Tolkien's life as he forms friendships, goes to war and falls in love.

Actor Nicholas Hoult, who plays the lead role, said that he was familiar with Tolkien's work prior to taking on the role, but making the film changed the way he saw some of the author's writings. "Reading his work again after understanding his love of language and where his ideas come from, it gave me a whole new perspective in terms of the depth of it and how incredibly immersed he was in these worlds," said the actor.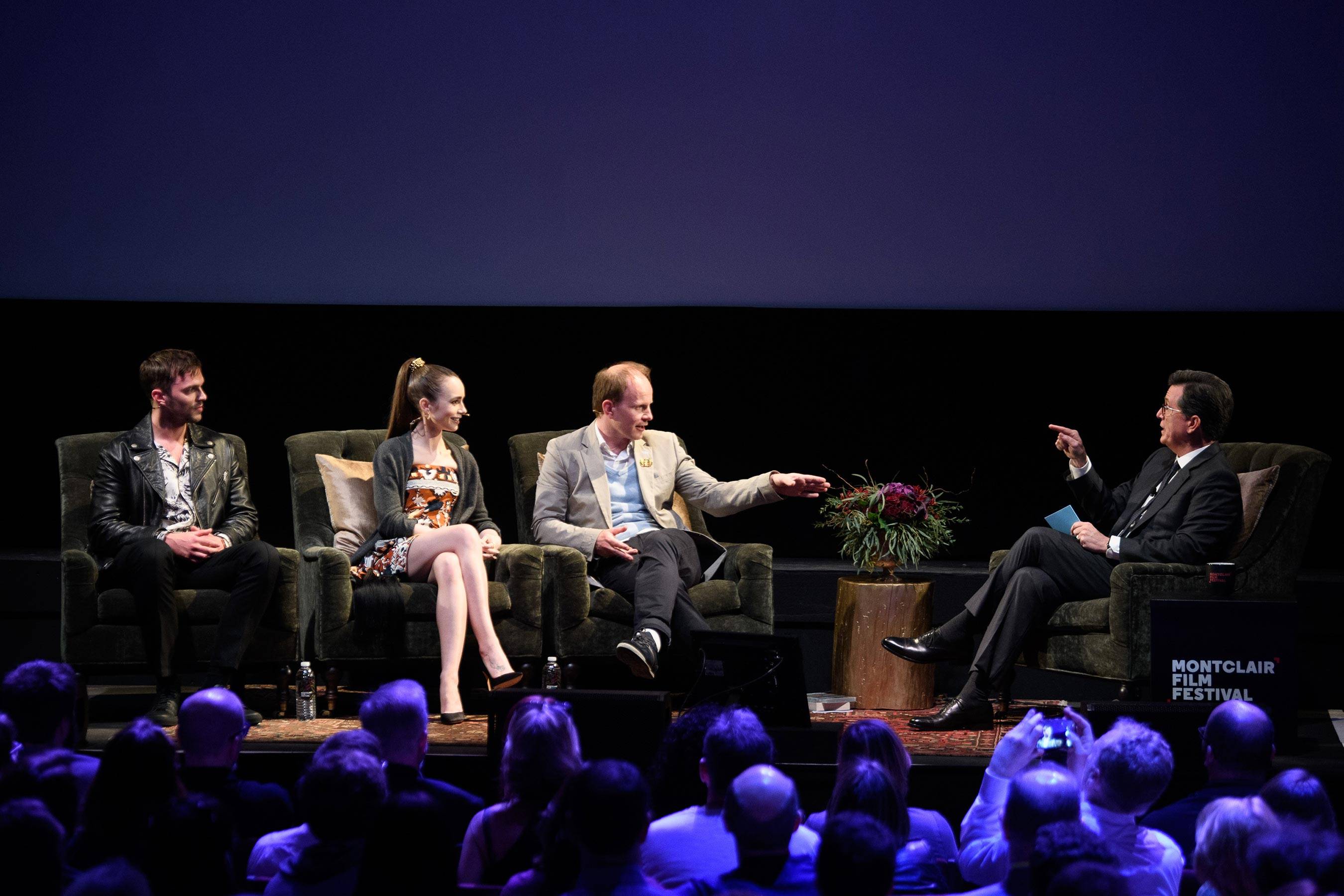 Photo: Dave Kotinsky/Getty Images
From left: Nicholas Hoult, Lily Collins, Dome Karukosk, and Stephen Colbert
Later in the interview, Colbert told Lily Collins, who plays Tolkien's wife Edith, that he particularly admired the part in the film where she dances under a tree.

For that scene, Collins herself was inspired by the band Florence + the Machine. "I went to Coachella years ago and she was barefoot, with long curly hair, tassels on, wearing lots of colors," said the actress, describing vocalist Florence Welch as "in with nature" and "ethereal."

To close out the Q&A, Colbert praised Karukoski's efforts and Tolkien itself. "Thank you for the film you created. It reminds me of the power of story, and how it can give us hope," the late-night host said before citing one of Tolkien's quotes from The Return of the King: "I will not say: do not weep; for not all tears are an evil."

It was beautiful to watch a fan-moment from a celebrity super-fan. It speaks wonders of the power of stories and good writing on people, no matter what they do or where they come from. With this interview, Colbert showed himself to be just one of us.
If you didn't have a chance to be in New Jersey for the Montclair Film Festival, here you can watch Colbert's intro.

The first thing Colbert said on stage was in Tolkien's elvish language, but he is also fluent in the culture of hobbits. Colbert has memorized many of the songs and poems that hobbits sing across the pages of The Lord of the Rings. "Like Tolkien, I consider myself something of a hobbit," Colbert said after reciting lyrics to the "hobbit walking song" written by Bilbo Baggins.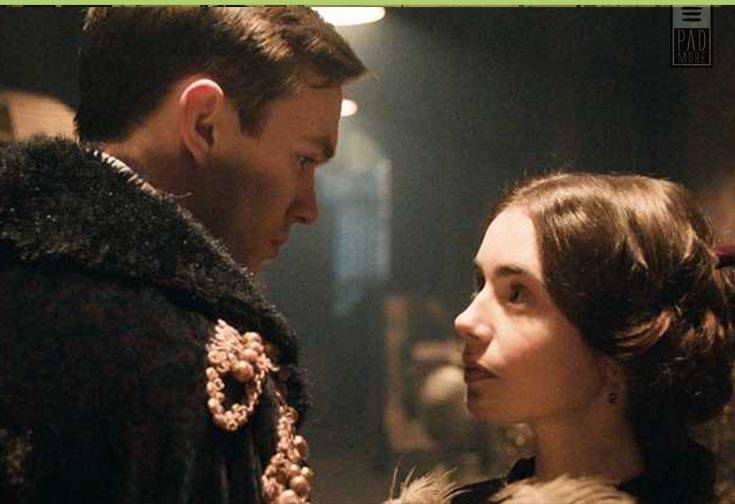 "Handsomely made in the customarily fastidious style of most period biographical dramas, Tolkien is strongly served by Hoult, who, after four X-Men outings (and a supporting role in last year's The Favourite), demonstrates that it's high time he moved on from that sort of thing to more interesting and challenging dramatic characterizations. With dashingly appealing looks that certainly flatter Tolkien himself and an intelligent bearing, the actor would seem compatible to a very wide range of characters. Collins also comports herself extremely well here in making Edith seem a perfect match for the brainy luminary-to-be." - Hollywood Reporter

"Tolkien leans heavily on a single point: Imagination served as an escape from what Tolkien's sickly mother calls the "impecunious circumstances" of his youth; his adolescence as an orphan, under the care of a priest; and, later, the horrors of war." - Washington Post

"It's sort of like watching a British Dead Poets Society that slowly turns into All Quiet on the Western Front, with hallucinatory knights and dragons. It's conventional and can be quite fun when it's not trying to be highbrow, which seems right for Tolkien. His work endures because it's a familiar blockbuster—the greatest hits of every story told throughout recorded European history, fused into an allegory so sweeping that it's found a home in the imaginations of fans for more than 80 years." - Wired

The inspiration for Tolkien's wife dance under the tree....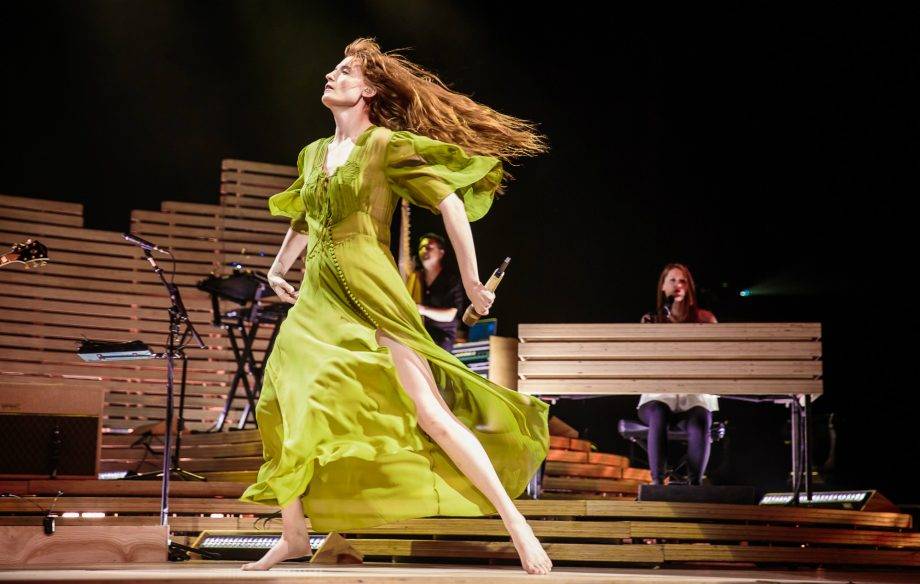 Game of Thrones meets Tolkien
George R.R. Martin talks to Nicholas Hoult, Lily Collins, and #TolkienMovie director Dome Karukoski at the Regency Village Theatre in Los Angeles!

How Tolkien Created Middle-earth
The range of J. R. R. Tolkien's talents is remarkable. Not only was he an accomplished linguist and philologist, as well as a scholar of Anglo-Saxon and medieval literature and Norse folklore, but also a skillful illustrator and storyteller. Drawing on these talents, he created a universe which is for many readers as real as the physical world they inhabit daily. Tolkien: Maker of Middle-earth, a book published by University of Oxford, explores the huge creative endeavor behind Tolkien's enduring popularity. Check it out.
Share with other booklovers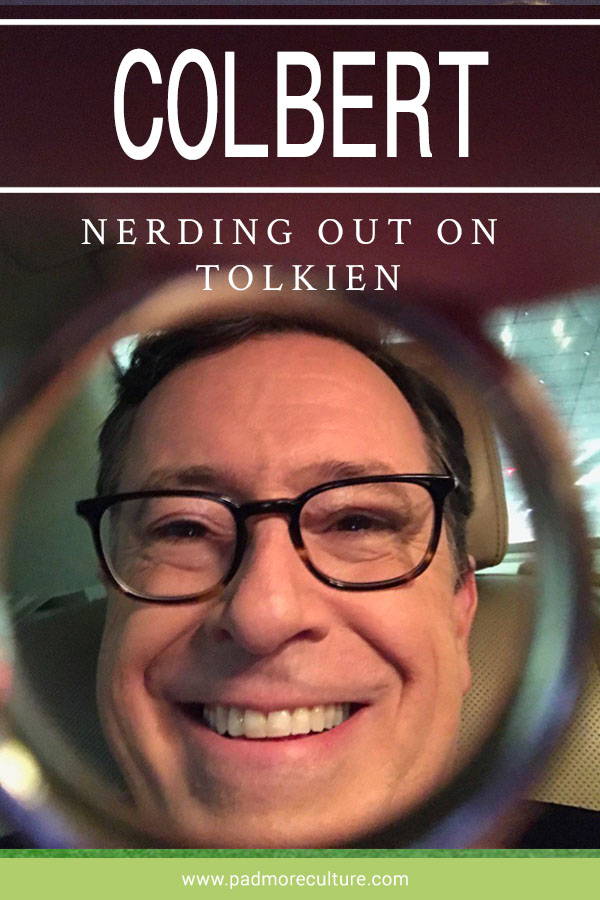 If you would like to be a guest blogger, contact editorial@padmorepublishing.com
Comments
Follow us on Instagram