Field of Dreams 30th Anniversary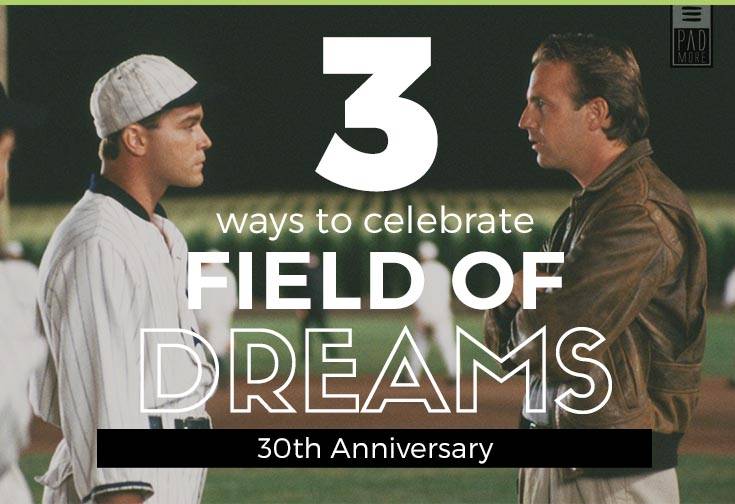 There are a couple of ways you can celebrate the 30th anniversary of the icon movie Field of Dreams this month. From watching the movie in theaters, which will be showing for two days as part of Turner Classic Movie special screenings, to buying the book that inspired the movie and some baseball items as Father's Day Gifts. You can even go visit the movie site where the actual field still stands.
TCM Big Screen Classics Presents
A Special 30th Anniversary Event
"If you build it,
he will come."

With these words, Iowa farmer Ray Kinsella (Kevin Costner) is inspired by a voice he can't ignore to pursue a dream he can hardly believe. Supported by his wife Annie (Amy Madigan), Ray begins the quest by turning his ordinary cornfield into a place where dreams can come true. Along the way he meets reclusive activist Terence Mann (James Earl Jones), the mysterious "Doc" Graham (Burt Lancaster) and even the legendary "Shoeless Joe" Jackson (Ray Liotta). A heartwarming experience that has moved critics and audiences like no other film of this generation, Field of Dreams is a glowing tribute to all who dare to dream.

June 16 and June 18, 2019
The special two-day event includes exclusive insight
from Turner Classic Movies.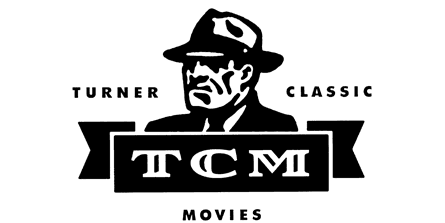 The Book That Inspired
the Movie
A deadly hitter and a fielder whose glove was called "the place where triples go to die," Shoeless Joe Jackson carved a name for himself in baseball history for his monumental skills and on-field achievements. But his legacy remains a sad one, tainted by association with the infamous "Black Sox Scandal" of the 1919 World Series. In response to suspicions that the White Sox had thrown the series under the influence of sports bookies, baseball commissioner Judge Kennesaw Mountain Landis banned Joe Jackson and seven of his teammates for life, sending a no-tolerance message regarding the presence of betting in baseball.
The film Field of Dreams is an adaptation of the book Shoeless Joe, written by William P. Kinsella, a Canadian novelist, who was born in 1932 and trained at the University of Iowa Writer's Workshop and the University of Victoria, Canada.
Shoeless Joe was published in 1982 to rave critical reviews:
"Wild…romantic… unconventional… A triumph of hope."
— The Boston Globe
"A quirky, wonderful book…A work that will outlive
this season and many more."
— The Philadelphia Inquirer
"A lyrical, seductive and altogether winning concoction."
— The New York Times Book Review
In addition, the book won a Houghton Mifflin Literary Fellowship Award.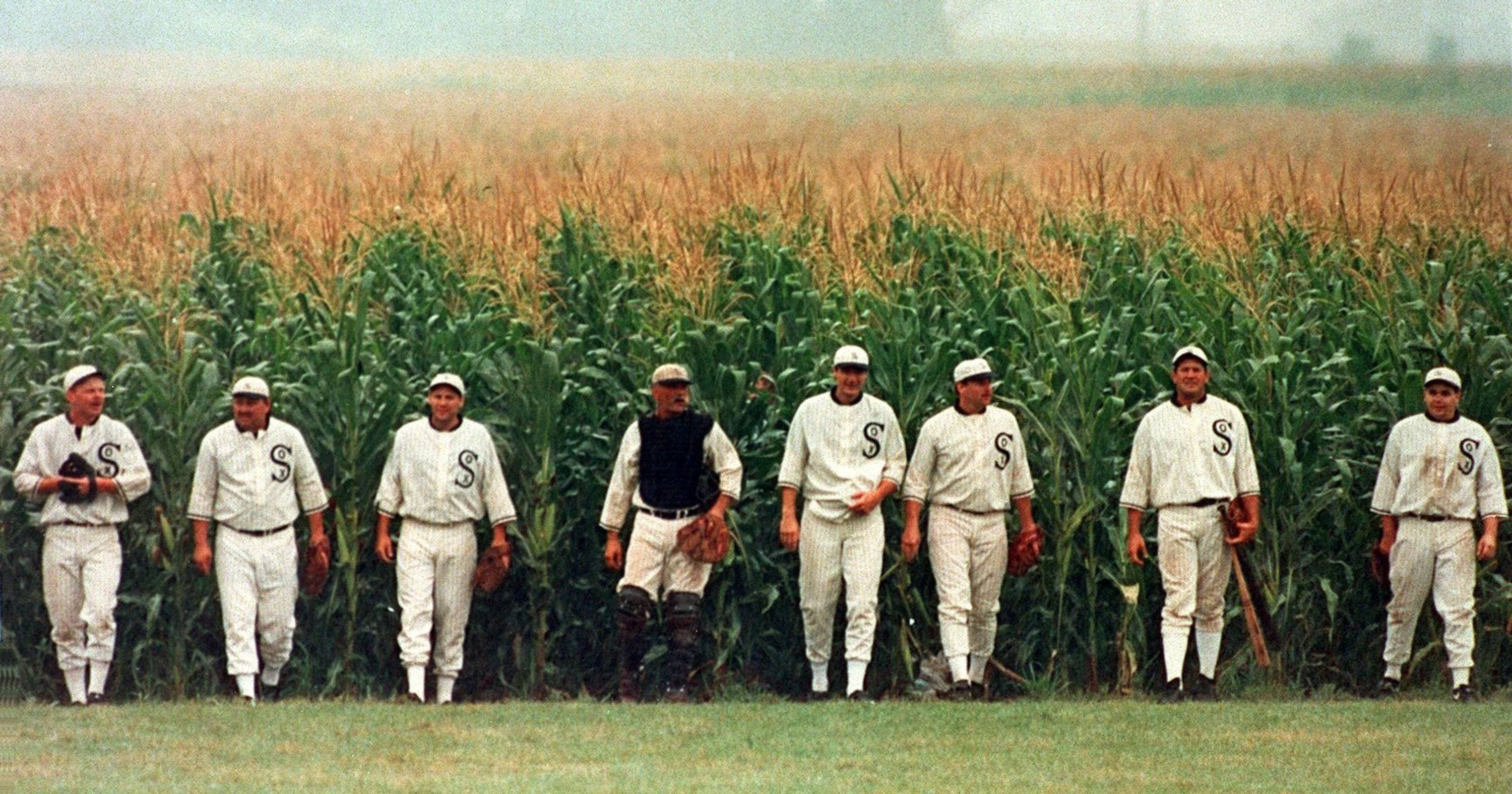 Eight Men Out of the White Sox 1919 World Series
Perfect as Fathers' Day Gifts
They built it for the movie,
and people kept coming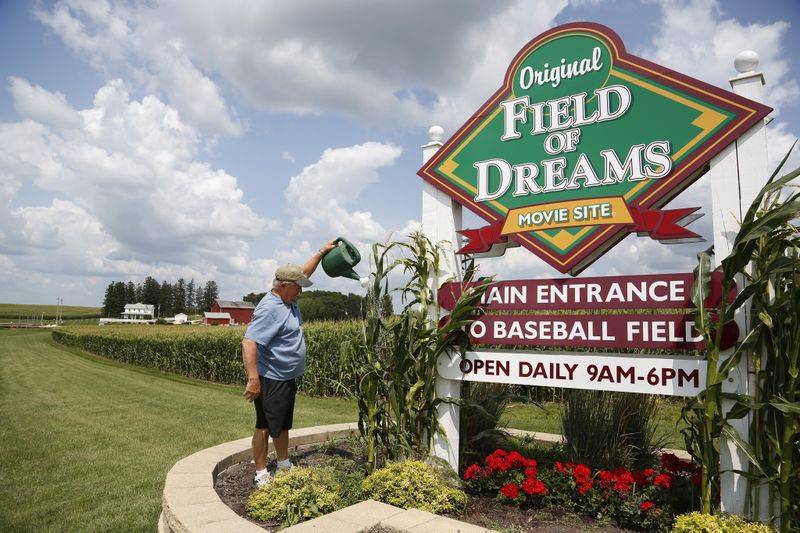 Photo: Matthew Putney / For The Times


"Hey, is this heaven?" Shoeless Joe asked after stepping out of the corn and finding himself on the pristine diamond.
"No, it's Iowa," Kinsella replied.
Location: Dyersville, Iowa.
There are no gates, only a small wooden sign draped by a cluster of corn on the side of a narrow and winding farm road. You know how it looks like. You have seen it a dozen times in the movie. A baseball field cut into the middle of a cornfield, a simple backstop, two small wooden sets of bleachers, shimmering white bases, a green cushion infield, all encased in rows of giant corn stalks that line the outfield and stretch endlessly beyond.
And you know the drill... fathers can go there and play catch with their kids. And they still do. Thirty years after the movie was made, people visit this Iowa farm to find a piece of heaven.
Visitors are received on Sunday's afternoons by a team of aging former amateur players and local towns folk, dress up in throwback baseball uniforms. They walk out of the corn - for that reason they are called the ghost players - and serve as the field's unofficial curators and historians.

As many as 70,000 persons visit the site annually, although keeping an official count is difficult because there are no tickets and the field is essentially accessible at all hours.

In a recent interview, Kevin Costner, who played the farmer in the movie, said, "It's become a lot more than a baseball field. "It's a mecca."
"People will come, Ray. They will come to Iowa for reasons they can't even fathom. They'll turn up at your driveway not knowing for sure why they're doing it. They'll arrive
at your door as innocent as children,
longing for the past"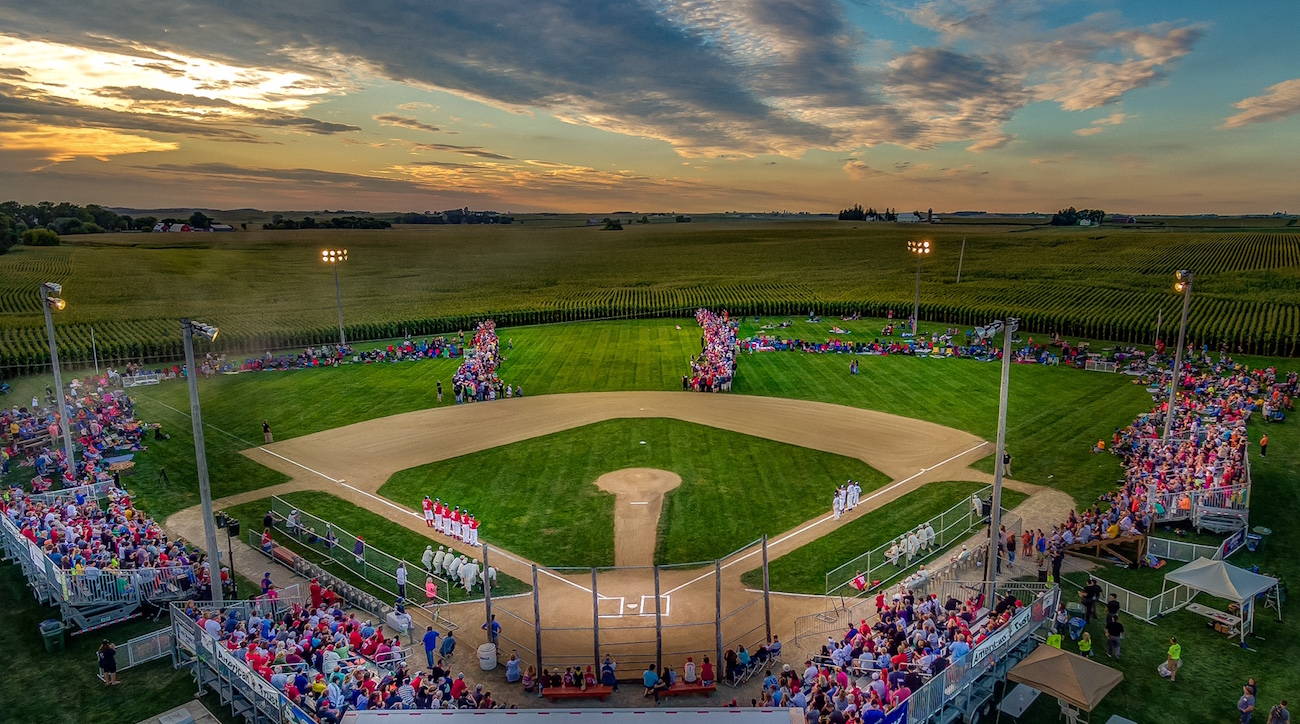 Join them for the
30th Anniversary Celebration
On Saturday, June 15, 2019 you can head up to Iowa for the 30th Anniversary Celebration of the Field of Dreams film and everything it embodies.
Gates will be open at 10:30am. Bring your lawn chairs and sunscreen for a day of fun!

More information HERE
Local food vendors on-siteInflatable bounce house
Fast Pitch inflatable throwing cage
Face-painting
Live music from local artists Beau Timmerman & The David Minnihan Trio
Time for catch on the Field
Special appearance by Dwier Brown, who played the part of John Kinsella

"This movie, this field, is all about the power of healing, of reaching across," Kevin Costner said. "It's our generation's 'It's A Wonderful Life.'"
More Baseball to Bring Home
Share with other booklovers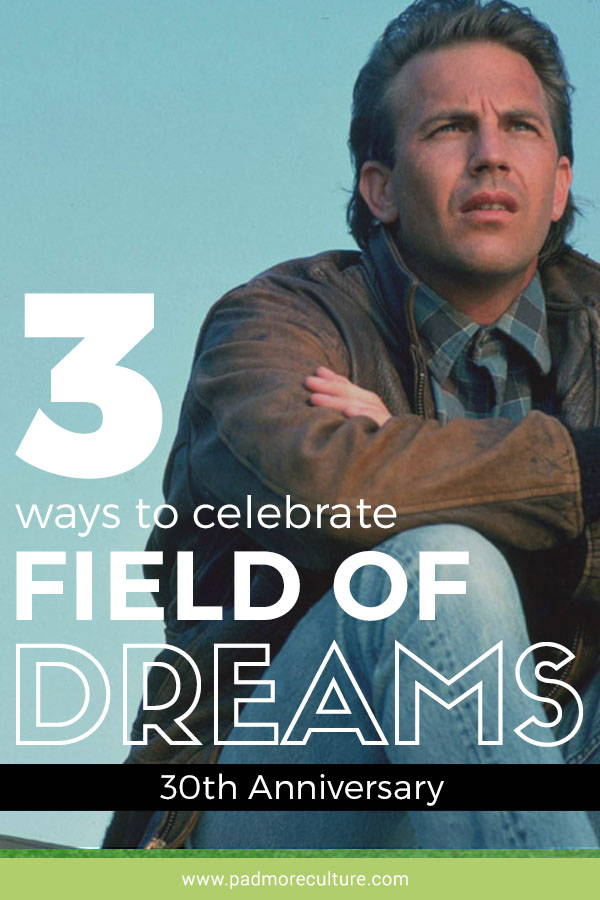 If you would like to be a guest blogger, contact editorial@padmorepublishing.com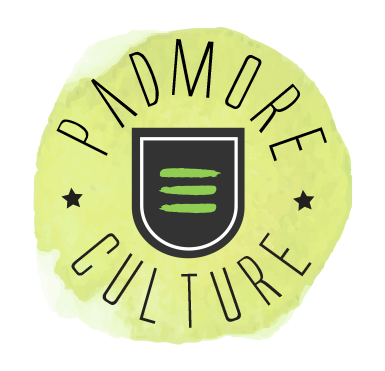 Before you go, sign up for the latest on books and literary gifts, offers and bookish news.

Comments
Follow us on Instagram