Sherlock Holmes as Relevant as Ever
With ___ just coming out, the last book in the Charlotte Holmes series, we wanted to take a look back at what one of our guest reviewers had to say about the start of the series. This first book called a Study in Charlotte, started in her and in many, many fans, an interest in everything Sherlock once again. So it's worth it to take a look, specially if you haven't read this series yet.
~ SPOILER-FREE REVIEW ~I finished this about twenty minutes ago and I'm still just… wow. I haven't read a mystery in a really long time mostly because I never find the right one. It's either too horror-y or too tame. Or it's the perfect balance, but the murderer is so obvious that I might as well flip to the back just to read the full explanation. Or the murderer is so far-fetched that it really doesn't even make sense. But this book. This book…was just graphic enough to get my blood pumping but not totally freak me out. The culprit was believable and at the same time unbelievable. Plus there was a little romance, which I'll never say no to.
Quick Goodreads synopsis before we get into the spoiler-free review:
The last thing Jamie Watson wants is a rugby scholarship to Sherringford, a Connecticut prep school just an hour away from his estranged father. But that's not the only complication: Sherringford is also home to Charlotte Holmes, the famous detective's great-great-great-granddaughter, who has inherited not only Sherlock's genius but also his volatile temperament.
From everything Jamie has heard about Charlotte, it seems safer to admire her from afar. From the moment they meet, there's a tense energy between them, and they seem more destined to be rivals than anything else. But when a Sherringford student dies under suspicious circumstances, ripped straight from the most terrifying of the Sherlock Holmes stories, Jamie can no longer afford to keep his distance. Jamie and Charlotte are being framed for murder, and only Charlotte can clear their names. But danger is mounting and nowhere is safe—and the only people they can trust are each other.
A Study in Charlotte is the first in a trilogy.
First off, a book about the descendants of Sherlock Holmes and Dr. Watson? Sign me up. If that cover didn't pull me in, the blurb most definitely did. I was totally ready for disguises and espionage, and I was definitely not disappointed.
Wonderful Characters:

I love Jamie Watson. He was awesome to read from. He explained things really simply with a bit of humor at times. His descriptions were so clear, I seriously felt Charlotte come to life.

Dressed again in her usual clothes, all the way down to her trim black boots. Against the bright window, she was like a shadow gone abstract, the instrument tucked under her chin. She moved the bow with exquisite slowness. A high note, and then a languorous descent. She paused, mid-note, like some beautiful statue. It wrecked me, watching her.

As for Charlotte herself, I really have no clue how I feel. At the beginning of the book, I got a Margo from Paper Towns vibe from her and I really hated Margo. But as the book went on and we got to know some of her story, I started to really like her. At times she kind of drove me insane but then she'd bring it back down and I couldn't help smiling at her witty remarks. I thought Lena was a really enjoyable secondary character even though we don't learn all that much about her. Jamie's dad kind of bothered me sometimes, but he meant well. What I loved about the characters the most was that every single one was different. Characterization deserves 120%.
The twists! Every time something happened, I was shocked in such an exciting way because I wasn't expecting any of the stuff that happened to happen! AND IT WAS GRAND. Maybe I'm just not good at anticipating things, but I thoroughly enjoyed every surprise. Just when I thought the book was going to slow down, it picked right up and I just had to keep flipping pages.
Gotta love those unrequited feelings. The relationship between Holmes and Watson was never clear which I might usually dislike but was actually kind of cute in a confusing sort of way. It was a weird relationship and I loved every second of it.
Mystery with a side of serious. Sure, after this book I know the perfect way to get away with murder or solve a case (wink), but it also highlighted a few serious real-life issues which is pretty cool, too.
THE EPILOGUE. I won't say much, because I don't want to spoil you. But guys, that epilogue was fantastically fantastic and hilarious. The reason I took off half a star was because of the slow start. Even though the first murder happened fairly quickly, I had a hard time getting into the story until around a hundred pages. But after that, it was golden. I'm actually sad this is only going to be a trilogy because I don't ever want to say goodbye to these characters.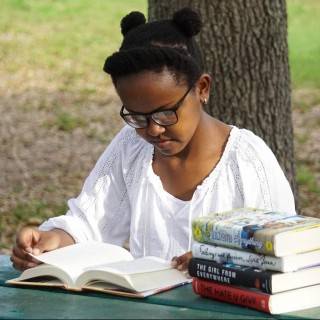 Jordyn is a professional procrastinator. Besides reading and piano, she LOVES traveling. Harry Potter is her religion and she's still waiting on her letter to Hogwarts. She wants to be an author when she grows up and we can't wait to see what stories she comes up with. Her love for GIF's is unprecedented and she's a master at the awkward close-lipped smile, and the awkward mini hand wave.
Comments
Follow us on Instagram