High School Romances to LOVE
While High School might bring up mixed feelings for some of us, there is something almost all of us can agree on... High School romances make us yearn for that first love. Fluffy cliché romances are always in style. Here some that are completely irresistible.
Mia's best friend Robyn is known for her matchmaking skills, which is perfect, because homecoming is just around the corner. But Robyn refuses to set Mia up with the guy of her dreams, which forces Mia to take matters into her own hands. She uses Robyn's matchmaking service to make sure popular Vince Demetrius falls for her.
Vince asks her out, but Mia doesn't count on Logan, the persistent school newspaper photographer who seems to like her out of the blue. Now she has to choose between Vince - the guy she knows is right for her - and Logan, who insists that she give him a chance. And she needs to make sure Robyn doesn't find out that Mia's been matchmaking behind her back.
Mia has two weeks before homecoming. Can she fix the mess she made or will she have to kiss her perfect match goodbye forever?
In Strickland County—a forgotten stretch of land in Southern Appalachia—there isn't a lot of anything to go around. But when eighteen-year-old Harlowe Compton's brother is killed by the Praters—the family who controls everything, from the mines to the law to the opioid trade—he wonders if the future will ever hold more than loss.Until he meets Tennessee Moore. Even as she struggles with the worst of the cards she's been dealt, Tennessee makes Harlowe believe that they can dare to forge their own path. But as Harlowe searches for the answers behind his brother's death, his town's decay, and his family's dysfunction, he discovers truths about the people he loves—and himself—that are darker than he ever expected.Now, Harlowe realizes, there's no turning back.

Seventeen-year-old Zae Monroe is over relationships. Between getting cheated on by the only guy she's ever loved and watching her parents' marriage crumble, she decides to turn the tables and go after what she wants, and what she wants are kisses. Athletes, musicians, poets, bad boys—their lips are all on her agenda, and it's time to collect.Zae proposes a contest with her friends to see who can kiss the most boys during spring break. But what starts as a harmless competition leads to a downward spiral of drama. Zae is forced to face the reasons behind her boy angst and starts to wonder if she was wrong about the male race...or at least some of them.

ARTHUR is only in New York for the summer, but if Broadway has taught him anything, it's that the universe can deliver a showstopping romance when you least expect it.BEN thinks the universe needs to mind its business. If the universe had his back, he wouldn't be on his way to the post office carrying a box of his ex-boyfriend's things.But when Arthur and Ben meet-cute at the post office, what exactly does the universe have in store for them . . . ? Maybe nothing. After all, they get separated.Maybe everything. After all, they get reunited. But what if they can't nail a first date even after three do-overs? What if Arthur tries too hard to make it work and Ben doesn't try hard enough? What if life really isn't like a Broadway play?But what if it is? What if it's us?

Every day a new body. Every day a new life. Every day a new choice.For as long as A can remember, life has meant waking up in a different person's body every day, forced to live as that person until the day ended. A always thought there wasn't anyone else who had a life like this. But A was wrong. There are others. A has already been wrestling with powerful feelings of love and loneliness. Now comes an understanding of the extremes that love and loneliness can lead to -- and what it's like to discover that you are not alone in the world.The sequel to the New York Times bestseller Every Day, now a major motion picture starring Angourie Rice.

Rumi Seto spends a lot of time worrying she doesn't have the answers to everything. What to eat, where to go, whom to love. But there is one thing she is absolutely sure of—she wants to spend the rest of her life writing music with her younger sister, Lea. Then Lea dies in a car accident, and her mother sends her away to live with her aunt in Hawaii while she deals with her own grief. Now thousands of miles from home, Rumi struggles to navigate the loss of her sister, being abandoned by her mother, and the absence of music in her life. With the help of the "boys next door"—a teenage surfer named Kai, who smiles too much and doesn't take anything seriously, and an eighty-year-old named George Watanabe, who succumbed to his own grief years ago—Rumi attempts to find her way back to her music, to write the song she and Lea never had the chance to finish.

At first, Jude and her twin brother are Noah and Jude; inseparable. Noah draws constantly and is falling in love with the charismatic boy next door, while daredevil Jude wears red-red lipstick, cliff-dives, and does all the talking for both of them.Years later, they are barely speaking. Something has happened to change the twins in different yet equally devastating ways . . . but then Jude meets an intriguing, irresistible boy and a mysterious new mentor.The early years are Noah's to tell; the later years are Jude's. But they each have only half the story, and if they can only find their way back to one another, they'll have a chance to remake their world.This radiant, award-winning novel from the acclaimed author of The Sky Is Everywhere will leave you breathless and teary and laughing—often all at once.

When it comes to drumming, Leah Burke is usually on beat—but real life isn't always so rhythmic. She's an anomaly in her friend group: the only child of a young, single mom, and her life is decidedly less privileged. She loves to draw but is too self-conscious to show it. And even though her mom knows she's bisexual, she hasn't mustered the courage to tell her friends—not even her openly gay BFF, Simon. So Leah really doesn't know what to do when her rock-solid friend group starts to fracture in unexpected ways. With prom and college on the horizon, tensions are running high.It's hard for Leah to strike the right note while the people she loves are fighting—especially when she realizes she might love one of them more than she ever intended.

Charlie Grant's older sister is getting married this weekend at their family home, and Charlie can't wait—for the first time in years, all four of her older siblings will be under one roof. Charlie is desperate for one last perfect weekend, before the house is sold and everything changes. The only problem? The weekend is shaping up to be an absolute disaster.There's the unexpected dog with a penchant for howling, house alarm that won't stop going off, and a papergirl with a grudge.There are the relatives who aren't speaking, the (awful) girl her favorite brother brought home unannounced, and a missing tuxedo.Not to mention the neighbor who seems to be bent on sabotage and a storm that is bent on drenching everything. The justice of the peace is missing. The band will only play covers. The guests are all crazy. And the wedding planner's nephew is unexpectedly, distractingly…cute. Over the course of three ridiculously chaotic days, Charlie will learn more than she ever expected about the family she thought she knew by heart. And she'll realize that sometimes, trying to keep everything like it was in the past means missing out on the future.

Juniper, Jasper, and Lenny have been friends forever and co-own a vlog channel called WereVloggingHere. Their fans are huge "shippers" who believe that Juniper and Jasper are perfect for each other, and, despite warnings from friends and family, a simple Truth-or-Dare inspired kiss soon spirals out of control into a whole new world of making out and surprise kisses.Juniper and Jasper's relationship begins to shift. But as fan requests for different "Kiss Cam" segments keep pouring in, Juniper puts her worries aside and convinces herself that it doesn't mean anything. After all, it's just kissing… right?Chosen by readers like you for Macmillan's young adult imprint Swoon Reads, debut author Kiara London's delightfully modern novel Kiss Cam will have you cheering for its quirky and loveable trio of friends.

Sixteen-year-old and not-so-openly gay Simon Spier prefers to save his drama for the school musical. But when an email falls into the wrong hands, his secret is at risk of being thrust into the spotlight. Now, change-averse Simon has to find a way to step out of his comfort zone before he's pushed out—without alienating his friends, compromising himself, or fumbling a shot at happiness with the most confusing, adorable guy he's never met.Incredibly funny and poignant, this twenty-first-century coming-of-age, coming out story—wrapped in a geek romance—is a knockout of a debut novel by Becky Albertalli.

American-born seventeen-year-old Maya Aziz is torn between worlds. There's the proper one her parents expect for their good Indian daughter: attending a college close to their suburban Chicago home, and being paired off with an older Muslim boy her mom deems "suitable." And then there is the world of her dreams: going to film school and living in New York City—and maybe (just maybe) pursuing a boy she's known from afar since grade school, a boy who's finally falling into her orbit at school.There's also the real world, beyond Maya's control. In the aftermath of a horrific crime perpetrated hundreds of miles away, her life is turned upside down. The community she's known since birth becomes unrecognizable; neighbors and classmates alike are consumed with fear, bigotry, and hatred. Ultimately, Maya must find the strength within to determine where she truly belongs.

From Sarah Dessen, the beloved New York Times bestselling author of SAINT ANYTHING and JUST LISTEN, comes a new novel set in the world of wedding planning!Is it really better to have loved and lost? Louna's summer job is to help brides plan their perfect day, even though she stopped believing in happily-ever-after when her first love ended tragically. But charming girl-magnet Ambrose isn't about to be discouraged now that he's met the one he really wants. Maybe Louna's second chance is standing right in front of her.Sarah Dessen's many fans will adore this latest novel, a richly satisfying, enormously entertaining story with humor, romance, and an ending that is so much more than happily-ever-after.

Lara Jean's love life gets complicated in this New York Times bestselling "lovely, lighthearted romance" (SLJ) from the New York Times bestselling author of The Summer I Turned Pretty series.What if all the crushes you ever had found out how you felt about them…all at once? Sixteen-year-old Lara Jean Song keeps her love letters in a hatbox her mother gave her. They aren't love letters that anyone else wrote for her; these are ones she's written. One for every boy she's ever loved—five in all. When she writes, she pours out her heart and soul and says all the things she would never say in real life, because her letters are for her eyes only. Until the day her secret letters are mailed, and suddenly, Lara Jean's love life goes from imaginary to out of control.

Share with other booklovers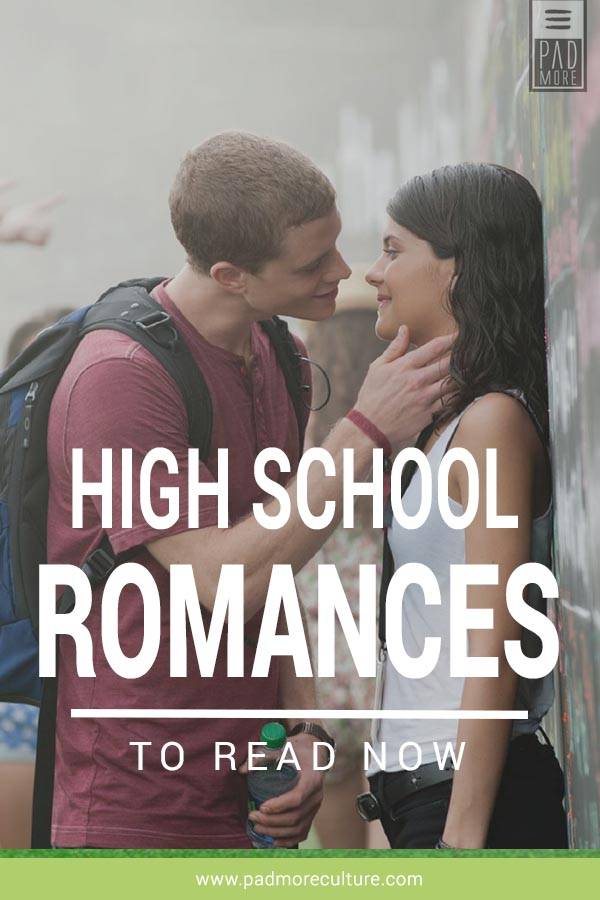 If you would like to be a guest blogger, contact editorial@padmorepublishing.com
Comments
Follow us on Instagram